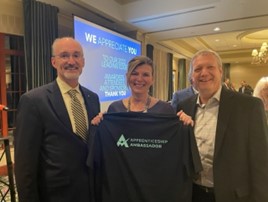 To celebrate National Apprenticeship Week (November 14 – 18), Mohawk Valley Community College and MACNY, The Manufacturers Association of Central New York announced they will partner with Wolfspeed, Inc to develop a New York State ("NYS") Registered Apprenticeship Program. The program is part of NIIT's (National Institute for Innovation and Technology) GAINS (Growing Apprenticeships in Nanotechnology and Semiconductors) program of which MACNY is a lead partner.
Wolfspeed is an American-headquartered innovator and manufacturer of wide bandgap semiconductors, focused on Silicon Carbide and gallium nitride materials and devices for Power and Radio Frequency applications such as electric transportation, power supplies, power inverters, and wireless systems. Wolfspeed is the unparalleled market leader in Silicon Carbide technology, producing over 60% of the world's supply of the material that supports global sustainability measures. In April 2022, Wolfspeed opened its Mohawk Valley Fab, the world's first, largest and only 200mm Silicon Carbide fabrication facility in Marcy, New York. The Registered Apprenticeship Program will build upon Wolfspeed's longstanding relationship with Mohawk Valley Community College as the two organizations continue to work together to establish a robust pipeline for the next generation of high-quality, high tech jobs in the Mohawk Valley.
"In celebration of National Apprenticeship Week, Wolfspeed is excited to announce the start of a Registered Apprenticeship Program in the Mohawk Valley. This new offering will create even greater opportunities for technical semiconductor knowledge, skills, and hands-on workplace experience for the next generation. We look forward to welcoming these apprentices to our Mohawk Valley Fab and anticipate learning from them as much as they learn from us as we engineer a more sustainable and energy efficient future together," said Margaret Chadwick, Chief Human Resources Officer, Wolfspeed.
Mohawk Valley Community College will be providing the required related technical instruction, which will expand upon the existing work already being conducted by Wolfspeed. Related technical instruction refers to the classroom and/or lab learning experiences of apprentices.
"Mohawk Valley Community College is thrilled to partner with Wolfspeed and MACNY on the implementation of a Registered Apprenticeship Program and as a collective through this comprehensive earn and learn approach, we undoubtedly will develop the highly-skilled labor force Wolfspeed requires while simultaneously enacting training pathways fundamental for career advancement," exclaimed Randy VanWagoner, Ph.D., President, Mohawk Valley Community College.
MACNY will oversee and ensure the success of the Registered Apprenticeship Program. MACNY is also an U.S. Department of Labor Apprenticeship Ambassador, increasing access and support for underrepresented and underserved populations.
MACNY President & CEO, Randy Wolken, stated, "By 2030, the manufacturing industry will need to fill four million jobs. A lack of high-skilled workers threatens to leave more than half of those positions vacant. Registered Apprenticeship is a vital solution to bridging the skills gap and filling a crucial need within the industry. Not only does Registered Apprenticeship follow a 'learn while you earn' model, but it also provides apprentices with a direct career pathway and a nationally recognized credential. Registered Apprenticeship is a win-win, as it allows employers the opportunity to develop and prepare their future workforce, improve productivity and profitability, and increase employee retention. MACNY is proud to sponsor the Wolfspeed Registered Apprenticeship Program in partnership with Mohawk Valley Community College and is dedicated to bringing innovative solutions to workforce challenges."
NIIT's GAINS program is a competency-based versus hours-based approach to Registered Apprenticeship, designed to meet the unique needs of the tech sector and more cost effectively and efficiently target training to meet required job proficiencies. The NIIT is the only organization with a comprehensive approach and infrastructure that is designed to support Registered Apprenticeship Programs for the semiconductor and nanotechnology sectors and broadens the pipeline by creating access to underrepresented populations.
"Partnering with Wolfspeed, MACNY and Mohawk Community College bring together a fantastic combination of industry, workforce and education to solve the nation's tech talent crisis through effective training programs," said Mike Russo, President & CEO of NIIT. "As part of our mandate from the U.S. Department of Labor to expand Registered Apprenticeships in the semiconductor and nanotechnology sectors, we will help Wolfspeed attract, train, and retain the talent it needs to be successful in New York. This includes working with K-12 school systems in the region to recruit a broad and diverse group of candidates for these Registered Apprenticeships."
_______________________________________________________________ 
About Wolfspeed:
Wolfspeed (NYSE: WOLF) leads the market in the worldwide adoption of Silicon Carbide and GaN technologies. We provide industry-leading solutions for efficient energy consumption and a sustainable future. Wolfspeed's product families include Silicon Carbide materials, power devices and RF devices targeted for various applications such as electric vehicles, fast charging, 5G, renewable energy and storage, and aerospace and defense. We unleash the power of possibilities through hard work, collaboration, and a passion for innovation. Learn more at www.wolfspeed.com.
Twitter: @Wolfspeed
LinkedIn: @Wolfspeed
Wolfspeed® is a registered trademark of Wolfspeed, Inc.  MACNY® is a registered trademark of Manufacturers Association of Central New York, Inc.
About Mohawk Community College
As a diverse institution with a global view, Mohawk Valley Community College provides opportunities for affordable education, with support from Oneida County and the State of New York, and offers career, transfer and transitional education, programs for personal and cultural enrichment, and supports community and economic development. For more information, visit www.mvcc.edu.
About MACNY, The Manufacturers Association
MACNY, The Manufacturers Association, represents over 300 companies in a 26-county region in Central and Upstate New York. The 108-year-old organization provides human resource services, training, workforce development, purchasing solutions, networking opportunities, and advocacy support for its members. For more information, please visit nysapprenticeship.org or follow on LinkedIn at MACNY – The Manufacturers Association or Twitter @MACNY_MfgAssoc to learn more.
About NIIT (National Institute for Innovation & Technology)
NIIT is a 501(c)(3) with a mission to identify roadblocks to innovation in strategic industry sectors – those important to the nation's security and global competitiveness – and ensure they are eliminated. Talent pipeline development is the major focus of NIIT, and through comprehensive industry engagement, NIIT is leading the deployment of a national strategy and infrastructure to broaden and build the talent pipeline for the semiconductor industry and strategic industry sectors. Through its National Talent Pipeline Development Initiative and the support of the federal government, NIIT has developed a comprehensive, nationally integrated approach that includes the alignment of programs K-12 through higher education and adult and veteran training, infrastructure to attract a broader population and improve access, connections to careers and needed training, and the ability to scale to support the nation. For more information, visit www.niit-usa.org.