Second Annual MACNY Transformational Leadership Award!
On October 26th, leaders from across Central New York gathered at The Lodge at Welch Allyn for Live2Lead 2018–a broadcast event from Duluth, Georgia. A full crowd heard from Dr. John C. Maxwell, Carly Fiorina, Daniel Pink, Debra Searle, and Tyler Perry share their years of real life experiences.
In addition to the Live2Lead event, MACNY honored Sriraj Patel, Director of Research and Design for Currier Plastics Inc. as the recipient of MACNY's Second Annual Transformational Leadership Award. John Currier, President of Currier Plastics, accepted the award on Sriraj's behalf because he was out of town traveling for work. Check out the video of why Dana nominated Sriraj for this award and listen in on the interview by clicking HERE to hear from Sriraj.
Sriraj was nominated by Currier Plastics Quality Management System Lead, Quality Engineer, Dana Lupo. Sriraj is recognized by his colleagues for his commitment to every aspect of helping to lead and transform the company in a variety of positive ways. One of many examples Dana shared was Sriraj revolutionized the method of saving data from servers alone by introducing a cloud server for the company. During this project, he was able to free data space, organize the servers, and institute a software backup with the help of just one summer intern and at no cost to the company. The project Sriraj completed allowed the company and its employees to work more easily off-site with access to the servers.
Dana shared "Sriraj leads a team of fifteen people, but because of Sriraj's guidance and vision for the organization, it is the most effective team of intelligent and hard working individuals that also has the highest number of bachelor's degrees within the company. In five months, Sriraj was able to lead his team to certifications that normally take a company two years."
Sriraj always handles difficult situations in creative ways, is always learning something new for himself, and consistently recommends literature to his colleagues to help them grow in new ways as well. Sriraj stands out as a natural leader in the plant.
This year's Transformational Leadership Award was sponsored by Stickley, Audi & Company.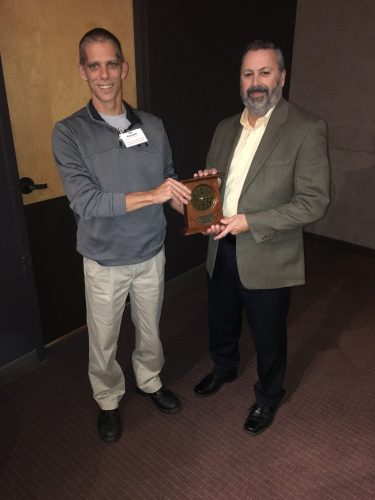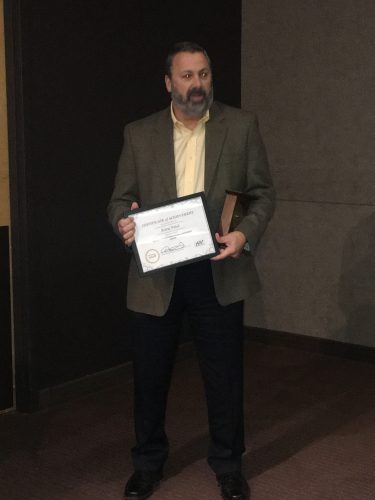 Pictured (1): Dave Freund, Chief Leadership Officer, MACNY; Eric Pietrowski, Production Team Manager, Kris-Tech Wire Company and also the 1st Annual Transformational Leadership Award Winner; and John Currier, President, Currier Plastics.