MACNY ANNOUNCES GREGORY OWENS & KIRK WARDELL AS 2018 MANUFACTURERS WALL OF FAME INDUCTEES
Winners to Be Inducted to Wall of Fame at MACNY's 105th Annual Dinner
Syracuse, New York- MACNY, The Manufacturers Association, announced today the 2018 inductees for the Manufacturers Wall of Fame. Gregory Owens of Liberty Tabletop (a division of Sherrill Manufacturing, Inc.) and Kirk Wardell of Marquardt Switches will accept their awards at MACNY's 105th Annual Dinner on May 24th, 2018. Their accomplishments will be celebrated by over six hundred business and community leaders and they will be commemorated with a plaque on the Manufacturers Wall of Fame at MACNY headquarters.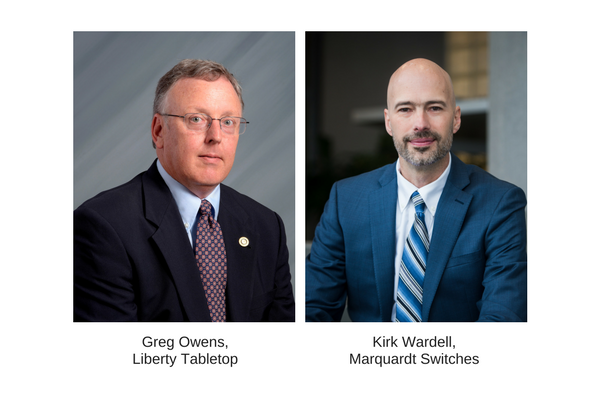 "The Wall of Fame Selection Committee is pleased to announce Greg and Kirk as our 2018 Inductees into the Manufacturers Wall of Fame," stated Randy Wolken, MACNY President & CEO.  "Liberty Tabletop and Marquardt Switches are two of our community's stellar examples of manufacturing at its best, and it is no coincidence that Greg and Kirk are the company's leaders. Their ability to navigate their companies through the many global challenges that come with manufacturing not only successfully, but as leaders in their industry, is a testament to their tenacity and leadership skills. On behalf of the Wall of Fame Selection Committee and the manufacturing community as a whole, I would like to congratulate Greg, Kirk, and their families and employees on this well-deserved induction into the Manufacturers Wall of Fame. We look forward to honoring their dedication to manufacturing and their achievements at MACNY's 105th Annual Dinner."
In 2005 when Oneida Ltd. decided to cease all U.S. manufacturing in favor of a low-cost import model, Owens teamed up with his partner Matthew Roberts, and created Sherrill Manufacturing (and later Liberty Tabletop), acquiring the Oneida Ltd. manufacturing facility in Oneida, New York. Greg Owens has since led Sherrill Manufacturing, Inc. and Liberty Tabletop through the ups and downs of a turbulent economy in the early 2000s, driving what is now a successful and rapidly growing company, as well as a brand that holds the applaudable position of being the only United States made flatware manufacturer today.
Wardell is the President of Marquardt Switches in Cazenovia, a manufacturer and global supplier of switches, sensors, and controls. Wardell has been with Marquardt for over 13 years, serving as Marquardt's Director of Operations and Industrial Engineering before his most recent promotion to President. Wardell is best-known for his approachable leadership style and imaginative, dream-big mentality. It's that perspective that has been a driving-force in making Marquardt Cazenovia highly competitive throughout the global Marquardt group. He is always asking, "What's next?" and "How can we get better?" His vision and constant focus to achieve the next thing on the horizon has generated continuous momentum for improvement at Marquardt.
Owens and Wardell will represent the eighteenth class of members inducted into the Manufacturers Wall of Fame, joining a prestigious group of manufacturing leaders who have been honored since the Wall of Fame's inception in 2001. The Manufacturers Wall of Fame celebrates individuals who have demonstrated long-term dedication to manufacturing in Central and Upstate New York.  Previous inductees will also attend and be recognized for their lifetime achievements at MACNY's Annual Dinner.
The Annual Dinner and Wall of Fame Induction Ceremony will be held at the SRC Arena and Events Center on May 24th, 2018.  For tickets or additional information, please contact Cindy Nave at 315-474-4201 ext. 11 or [email protected]
###