Are You Leveraging Your Team's Strengths?
Randy Wolken, President & CEO
We want our team members to operate in their areas of strength. When this happens, everyone wins. We win as organizations and they win as individuals. The key is both understanding and using the inherent capabilities of each of our teammates.
At MACNY, we are investing in helping each of our team members understand and tap into their natural tendencies as the best way to accomplish our collective goals. We recently had every individual on the team determine their "working geniuses" through a new offering for members. The 6 Types of Working Genius workshop has provided us a better way to understand our gifts, our frustrations, and how to best leverage those as a team.
The 6 Types of Working Genius workshop offers a quick way to help people identify the type of work that brings them success and gives them energy. Equally as important, it helps them shift from work that leads to frustration and burnout to work that leverages their skills and capabilities. Beyond the personal discovery each team member gains insight from, the model also gives teams a simple and practical framework for tapping into each other's natural gifts, which increases productivity and reduces unnecessary judgment.
The process starts with participants taking a 10-minute online assessment prior to the workshop. And during the training, each person discovers their personal working geniuses. It helps them learn how they interact with others so they can help take their teams to the next level. David Freund, MACNY's Chief Leadership Officer and a certified Maxwell facilitator, leads the workshop and facilitates the group discussion.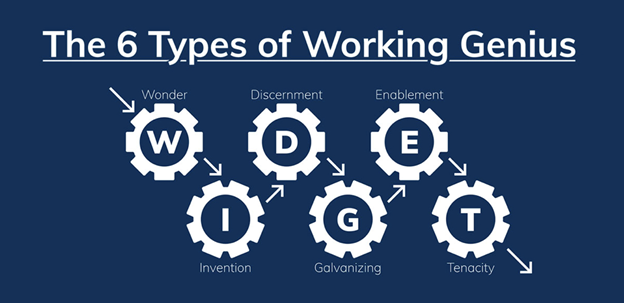 We used this tool to help our MACNY team at our recent strategic planning session. It guided our discussions with each other and will continue to help us prepare for our challenging and exciting future. We are proud to have so many talented individuals ready to serve you and help guide the manufacturing sector into the decades ahead.
If you're interested in leveraging The 6 Types of Working Geniuses workshop for your team, our next class is being held on September 14 at MACNY and online via WebEx. Click here to learn more or visit macny.org/events.
As always, if there is anything we can do to assist in your success, please let us know. We are excited for our upcoming fall events (see them all at macny.org/events). I look forward to seeing you at a great MACNY event soon!