Auburn P-TECH Students Visit Goulds Pumps + Upcoming P-TECH Events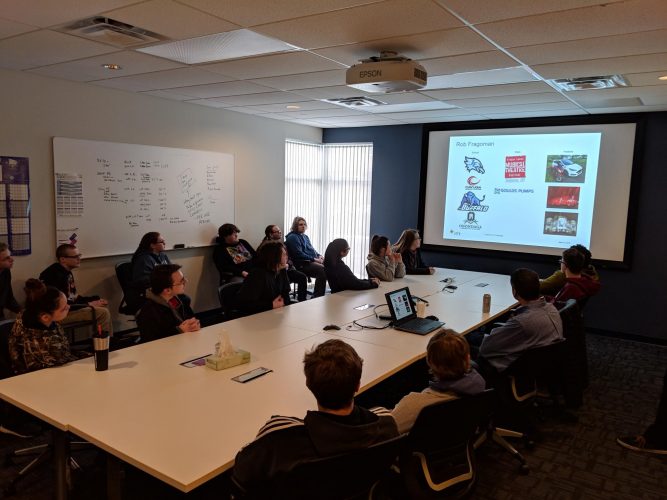 The Auburn 10th grade P-TECH program students visited Goulds Pumps in Seneca Falls on March 4th.  The students were given the opportunity to learn and ask questions of company professionals.
Jim Hubbard and Rob Fragoman spent time with the students to share a brief history of the company, show them where Goulds is located around the world, and talk about the opportunities that students could have with an associate's degree in mechanical engineering technology.  Students were shown some of the products that made Goulds Pumps famous and were also given an idea of how they plan to grow in the future and what that means for the Seneca Falls facility.
Jim and Rob shared their career stories as they explained how they were hired and what they did to progress in their respective careers.  Jim impressed upon the P-TECH students that they needed to work hard to separate themselves from the pack at school and at work to get ahead.  Rob pointed out how his job was not only fun and interesting but could include travel and the opportunity to work with people in different cultures. Both agreed that Goulds Pumps is a great place to build a career.
Thank you, Jim, Rob, and Goulds Pumps, for hosting an industry visit!

Upcoming P-TECH Events! Get involved today by contacting Jason at [email protected].
| | | | | |
| --- | --- | --- | --- | --- |
| Date | Program | Event | Grade | Participating Businesses |
| April 3rd | Syracuse P-TECH | Industry Visit | 9th grade | HSM Packaging & Universal Metal Works |
| April 4th | Auburn P-TECH | Industry Visit | 9th grade | Xylem |
| April 5th | Syracuse P-TECH | Industry Visit | 10th grade | Legrand & Covanta |
| April 9th | Auburn P-TECH | Speaking | 9th grade | Trane |
| April 11th | Auburn P-TECH | Industry Visit | 10th grade | United Radio |
| May 2nd | Auburn P-TECH | Industry Visit | 9th grade | Mack Studios |