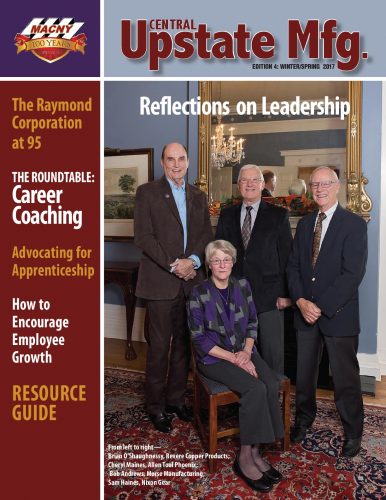 MACNY is pleased to bring you the fourth edition of Central Upstate Mfg. magazine. In this issue we explore the critical topic of careers in manufacturing and the critical need to prepare and train the future workforce.
MACNY has been quite active in this area and several articles bring readers up-to-date on our efforts. You'll find that MACNY has been instrumental in advocating for improvements in New York State's Apprenticeship Program. You will also read about the ways in which Partners for Education and Business (PEB) is a leader in building manufacturing career awareness among the region's students.
Our roundtable on career coaching explores the significant contribution career coaches make to keeping kids in school and supporting their success in STEM-related careers. Filling out our focus on workforce is a rundown of "Top STEM Careers" and some strategies for upskilling existing employees.
This issue's Company Profile features Raymond Corporation, which is celebrating 95 years as a leader in materials handling. Part of the company's success is a result of its commitment to maintaining a learning culture throughout the organization and maintaining a dynamic workforce.
As always, our Leadership Profiles provide a special insight into the real world concerns of leading a manufacturing company in today's world.
We hope you enjoy this issue and find the information provided valuable to you and your team.
Click here to view online.
Click here for a PDF.