Congressman Brindisi Visits Metal Solutions with MACNY Members
Date: September 2, 2019
Metal Solutions, Inc., a family-owned manufacturing company that provides precision fabricated metal products to a wide range of industries, yesterday hosted Congressman Anthony Brindisi, Representative from New York's 22nd district, at its plant for a roundtable discussion and tour.
Metal Solutions is a member of the Manufacturers Association of Central New York (MACNY), and the Congressman's visit was part of MACNY's Government Relations Speaker Series. The event was open to MACNY member companies and included the roundtable discussion and a plant tour. The Congressman answered questions about a variety of subjects that included but were not limited to trade, workforce development and apprenticeships, and minimum wage.  About 40 people were in attendance.
"Metal Solutions was excited to host this event. It showcased our recent expansion, highlighting our goal to continue our business growth in the CNY area. This will allow us to increase capacity, assume larger and more complex projects and attract new customers," said Metal Solutions.
Metal Solutions is located at 1821 Broad Street, Utica, NY and is currently in the process of an expansion project. As of March 1, 2019, Metal Solutions took possession of the other 50.000 sq. ft. of their building (doubling in size). Metal Solutions is finishing the 1st stage of the renovations and has begun moving some production work centers into the new area. The second stage of the renovations will begin in 2020 and include adding an in-house conveyor powder coating system.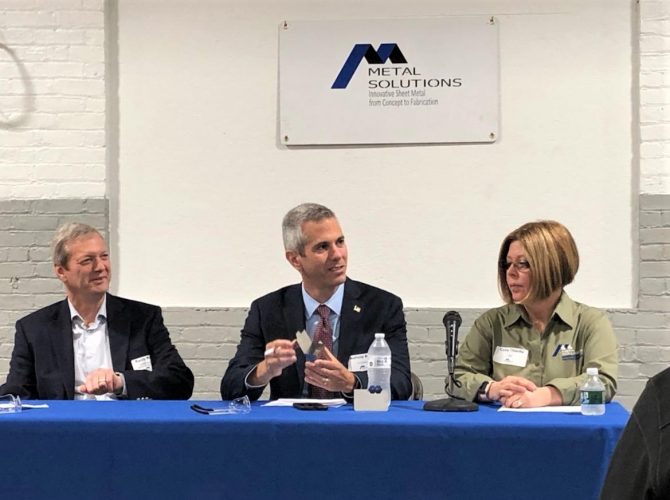 Pictured from left to right: MACNY President & CEO Randy Wolken, Congressman Anthony Brindisi, and Metal Solutions CEO Cathy Thiaville.