E Pluribus Unum
By: David Freund, Chief Leadership Officer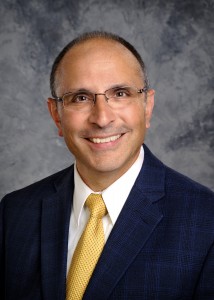 I mentioned last week that I would be traveling to our nation's capital to see the sights with my son. It is hard for me to explain the emotions I felt as we arrived in Washington Saturday morning. As we exited Route 66 onto Constitution Avenue, the Washington monument was the first site to catch my attention, then the Lincoln Memorial came into view on my right, and then I saw the newly renovated dome of the Capitol Building against the morning sky.
After parking our car, we walked to the Capitol for our morning tour. As I sat to watch the presentation that introduced our tour, the magnitude of what has been accomplished by a handful of visionaries began to sink in. E Pluribus Unum – out of many, one.  What has taken place in our country by men and women with vision and under Divine Providence, is truly amazing.
The Capitol itself is such an amazing building. Our tour started in the crypt where we could see and touch the sandstone pillars that have held up the building since 1793. We then walked through the doorway that the British used to enter the Capitol and set fire to it on August 24, 1814. Our next stop would be the chambers used by the Supreme Court from 1810 – 1860. The dimly lit room, simple yet elegant in its layout and décor, was the site where many crucial decisions for our nation were debated. It was then up the stairs to the Rotunda where presidents and dignitaries lie in state. It is a magnificent room, lined with paintings depicting scenes from our nation's history, and directly above is the Apotheosis of Washington painted by Constantino Brumidi. This fresco painting is suspended 180 feet above the Rotunda floor covering 4,664 square feet of ceiling. Our last stop would be Statutory Hall where the Inaugural luncheon was served only a few weeks ago. Wow, what an experience. As amazing and moving as it was, our visit to the National Archives was still to come.
As we entered into the national archives, things began to get quiet. Climbing the steps into a gallery, we noticed the lighting was very dim. We entered a quiet room where we saw the original Declaration of Independence and the Constitution of the United States of America surrounded by several other important documents. I had to think of the men who, guaranteeing their death sentences, signed their names on these documents. What made them do it? What calling burned within them? What caused these men to put their own lives and fortune at risk? It was a calling to be part of something bigger than themselves. A vision of one nation, brought about by Divine Providence with liberty and justice for all. A perfect nation, no. But from the dreams of these great people we have a nation that out of many, became one.
What calling or vision is burning inside of you? Will you, like our forefathers in this great country be willing to strive for significance, rather than just success? I would love to hear your thoughts and dreams.