By Official MACNY Consultant, Laura Thorne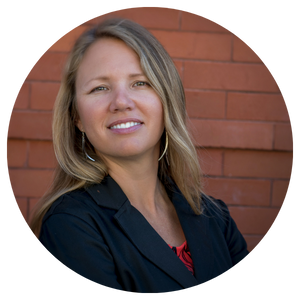 Empowering the people in your life, including  parents, kids, siblings, spouses, employees, team members, and clients, can make your life so much easier and less stressful. You may have heard  that empowering someone is about saying, "I have the power and now I hereby grant some to you". While that does happen and may impel the receiver to feel important, it doesn't empower them to make good decisions and take the right action.
Empowerment is often confused with engagement. Engaging people is about getting their attention, commitment, and sometimes just entertaining them. Empowerment goes beyond holding attention and is about helping people make decisions (think about getting engaged to be wed, it's a precursor to the actual action). Another word we can use to take empowerment to the max is emancipation.  Emancipation is about setting people up and trusting them to make good choices and actions on their own. 
The distinction may seem harmless. However, getting engagement wrong can lead to detrimental turnover issues. See the Engagement vs. Empowerment Model below to better understand the nuances and relationship between engagement and empowerment.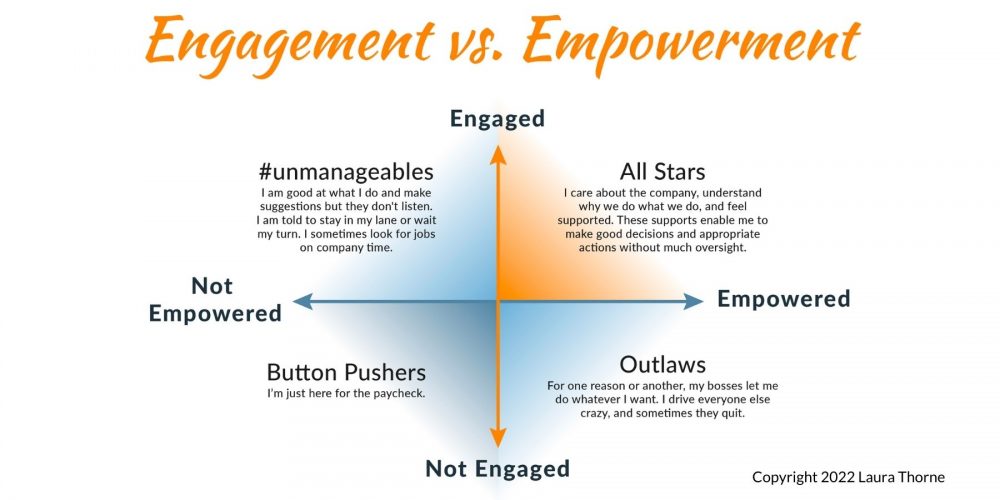 Here are two examples of how the dynamic can play out in real life situations.
Example 1. 
Devon has recently been hired as a Junior Software Developer. He has some experience in an office environment, but this is his first "real" career job. His employers are focused on engagement. They've invited him to meetings, given him responsibilities via his job description, and now they leave it to him to get his work done. 
After a few months in Devon is facing some challenges. He  has a coding problem that is threatening to make him miss a deadline. He has received some information from other departments that there are some changes in the requirements, but he doesn't know what they are. The work he submitted in the past didn't receive any feedback, so he's  not sure if he's on the right track. Most frustratingly, a client came to him with a question about changing a minor detail of the project and he is still waiting for a response from someone higher up the chain to tell him what to do. 
Devon is well on his way to being an Unmanageable. 
Example 2. 
Sharron has recently been hired by a manufacturing company as a Quality Manager. She's done this before, so she knows quite a bit about how it should work. The management want to empower her so she can do her job and they can get out of the way. They know  this means there might be some interaction and oversight at the beginning and they explained that to her  at the start. 
A few months later, after enduring check-in meetings and having to report what she's been working on, Sharron has been emancipated from the training program. She knows the vision of the company and she can imagine what her boss would want her to do when questions arise. Part of her initiation was setting her up with the tools she needed to do the job her way while keeping step with the existing systems and processes. Rarely does she find herself stuck waiting to get a question answered by a higher up. 
Sharron has been set up to thrive in her All-Star role. 
As you can see, the difference between engagement and empowerment is subtle but the impact is huge. If you want to retain good people, you must work towards empowering and emancipating them. A bad boss is the number one reason good qualified people leave their jobs, the second is engaging them and then falling short on empowering them. 
If you want to learn more about how to help your company succeed by helping your people succeed, register for the upcoming workshop, Build a Culture of Action: Engage > Empower > Emancipate on March 22nd from 9 – 11 AM.
Laura Thorne specializes in strategy and execution through workshops, coaching, and other services. Click here to learn more about Laura's consulting partnership with MACNY.
Want to to suggest an article topic or make a comment? Contact Laura at [email protected].