For Immediate Release: Statement Regarding the FY2021 State Budget
Date: April 3, 2020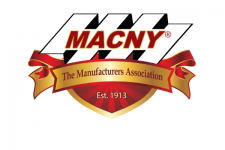 FOR IMMEDIATE RELEASE
April 3, 2020
Contact: MACNY, Tiffany Latino-Gerlock, (315) 474-4201 x. 13
Statement Regarding the FY2021 State Budget
State Legislature Passes Final State Budget Agreement – MIAP Receives $750,000
The Manufacturers Association (MACNY) and the Manufacturers Alliance of New York State today announced that the FY2021 State Budget, which the State Legislature passed on April 2, 2020, includes $750,000 to sustain the Manufacturers Intermediary Apprenticeship Program (MIAP).
MACNY President & CEO Randy Wolken stated, "We are grateful to the State Senate for including this critical funding in its one-house budget, and to all the Senators and Assembly Members who worked to ensure this funding was in the final state budget, especially during these tough fiscal times."
The funding will allow MACNY, and its Manufacturers Alliance Partners, to continue supporting the hundreds of manufacturing workers currently enrolled in MIAP. These hardworking men and women are working each day to advance their skill levels, while helping their companies increase productivity and staff retention.
Given the tremendous success to date, MIAP serves as a key tool for continuing to build upon the skilled workforce throughout the State of New York. This program is an essential component of a workforce development strategy to growing a stronger economy through advanced manufacturing.
   ###
The Manufacturers Alliance of New York State is a statewide organization, consisting of seven manufacturing associations, working together on behalf of manufacturers and businesses in New York State. Randy Wolken also serves as President of the Manufacturers Alliance. The Manufacturers Alliance Partners are BNMA, Council of Industry, CEG / CEN, Ignite Long Island, MACNY, MAST, and RTMA.