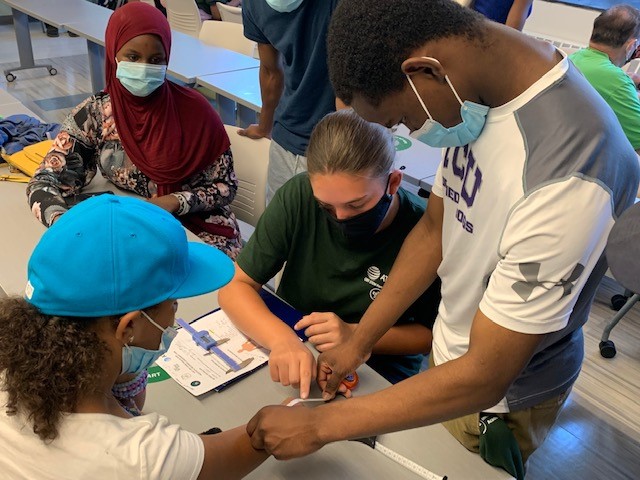 Monday, July 26, 2021 was "Measuring Day" at the AT&T Hand in Hand program at the ERIE21 Innovation Academy on the Le Moyne College campus. The local youth and adults who will receive specialized prosthetic hands crafted with 3D printing technology by CNY students taking part in the unique digital literacy program will be fitted for their assistive devices. Before the hands can be fabricated, the students had to assess the recipients' needs and take measurements. The students will also fabricate prosthetic hands for children in need in Ghana through a partnership with Operation Walk Syracuse and Syracuse Orthopedic Specialists, which will deliver the hands later in the year.
On Monday, the local participants were measured by the students and discussed what they want out of a new prosthetic hand and their personal style. The youth recipients from Ghana will be measured virtually at a different time due to the time difference. The free, newly created prosthetic hands for the local recipients will be presented by the students that made them at a presentation ceremony in early fall. All final prosthetic hands will be made on commercial 3-D printers before they are given to the recipients to ensure the highest quality.
AT&T Hand in Hand is a two-week-long intensive Science, Technology, Engineering, Art & Math (STEAM) and digital literacy program. The 40 youth in the free program are designing prosthetic hands using 3D printers and open-source software created by e-NABLE. e-NABLE is an online global community made up of individuals who are utilizing 3D printers to create free fabricated hands and arms for those in need because of being born missing fingers or who have lost a limb due to war, disease, or natural disaster.
AT&T Hand in Hand is designed to provide students in grades 9-12, primarily from underrepresented high schools from the greater Syracuse area, basic knowledge of anatomy and careers in medical technology, plus fundamental digital literacy through core skills in 3D printing, engineering design, computer coding, and advanced fabrication, in addition to leadership training and service learning. AT&T and CNY STEM Hub created this program to provide an opportunity for local students to see firsthand how technology can be used to create life-changing solutions for those who live with disabilities and ailments and to experience overall social and community good.
AT&T Hand in Hand is a STEM and digital literacy initiative lead by AT&T and CNY STEM Hub utilizing the e-NABLE program.  Other community partners include ERIE21 Innovation Academy and the Keenan Center at Le Moyne College, Syracuse Prosthetics and Orthotics, CADimensions and MACNY. The program provides local students the chance to learn how to create customized 3D prosthetic hands to donate to local youth and adults and Ghanaian children demonstrating how technology can be used for social good.