Lessons From Max
By: David Freund, Chief Leadership Officer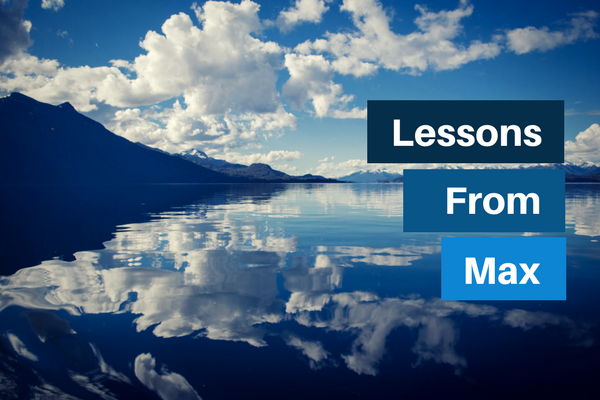 Do you know people who have spoken into your life so profoundly that they seem to have been bigger than life? People who, in retrospect, have had a powerful impact on your life? There have been people in my life that taught me such great lessons that they almost seem like giants.  My hope is that as you read these thoughts, you might find giants in your own life, too.
Two weeks ago, I had the honor and privilege of officiating at a funeral for one of my Giants. Max was a man small in stature, but big in life. Swiss by birth, Max chose to bring his dear wife to the new world and become citizens of our great country. What I learned from his family was that this move occurred shortly after Max and his wife lost their first child during childbirth. I can't even begin to imagine dealing with that type of loss, but Max and his wife not only endured, but pressed on with great optimism.
Two of the greatest lessons I learned from Max were to never look back and never give up.
Never Look Back
Max was a man of great faith and believed God had a plan for his life, so chance and luck were not in his vocabulary. He believed everything happened for a reason, so he was able to accept the things in his life he didn't have any control over. What a great mindset. Realizing the only thing he could change was his own attitude. Ever the optimist, once he knew he had done his best, Max never looked back. He just pressed forward.
Never Give Up
You might think that this is in conflict with Never Look Back, but it's not. When you are a person that strives to give your best each day, you can move on when you realize you have done everything. The key is you have to do everything you can before moving on. At the funeral, Max's son shared that his dad always had alternate plans just in case the first one failed. They would hit a roadblock and Max would simply say, "Plan #54." You read that right. Max didn't have plan number 2 or 3; he was teaching his son that every problem has a solution, you just need to look for it.
Max was my best friend's Dad, so I had the privilege of knowing him most of my life. While I enjoyed being around him and interacting with him, I never stopped to think about what he had been teaching me. Funerals are great for that, but why wait? Wouldn't it have been better for me to realize this while Max was still with us so I could have let him know? I bet you have at least one Max in your life. What have they been teaching you?
Please join Marisa and me on The Next Page podcast when I share other lessons from Max and a great story about how Max saved a multi-million dollar deal for G.A. Braun at the last minute. You won't want to miss it.
Download The Next Page Here: iTunes | Google Play | PodBean