MACNY – The Manufacturers Association of Central New York today announced it recently graduated a new group of registered apprentices through the Manufacturers Intermediary Apprenticeship Program (MIAP). To date, there have been nearly 600 registered apprentices in the program at more than 158 companies throughout New York State. MIAP funding supports these companies that train apprentices in over 20 different trades.
MACNY partners with the New York State Department of Labor to sponsor MIAP, acting as an intermediary to help small and medium-sized companies in CNY and across New York establish registered apprenticeships at their companies. An apprentice learns directly from his/her employer with on-the-job training to earn the credentials needed to progress in the industry. When apprentices complete the program, they earn a Journeyworker National Certificate. As a result, entry-level positions also become available to provide opportunities for other individuals in our community and to help fill the talent pipeline.
Each year, the State Legislature has helped fund MIAP. As budget negotiations continue in Albany, MACNY is urging state legislators to support the program once again by including such funding in the final 2022-23 State Budget.
MACNY President & CEO Randy Wolken said, "We are so proud of all the hard-working graduates who have contributed to the successful story of MIAP.  We are thankful to the State Legislature for funding this program over the years, and we are hopeful this vital support will continue to sustain and grow the program."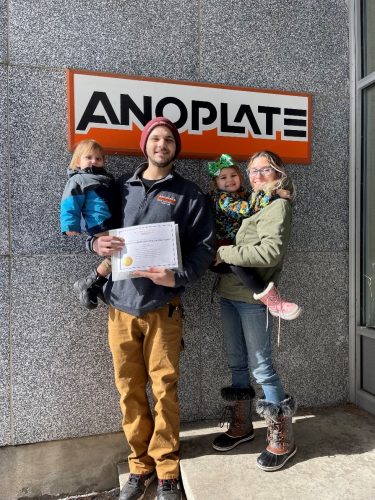 Patrick Rogers, who works at Anoplate in Syracuse, earned his Journeyworker Certificate this month.  Rogers grew up in the Central New York region and decided to raise a family here. He joined Anoplate as a Maintenance Helper, and after completing the apprenticeship program in just four years, he is now a proud Maintenance Mechanic for the company.
Rogers said, "The apprenticeship program has done wonders. It is not just about the income and providing for my family, it's about the advanced skills I've developed and how these skills will open up more opportunities for me. I could never have pictured myself in the position I am today. I love what I do. Going through and completing the program is one of the smartest decisions I've made."
Chad Wierzbicki has a similar story. He also grew up in the region and recently graduated as a Journeyworker Maintenance Mechanic at WestRock in Solvay.  He is proud of the work he does at the paper mill and says the program has improved his quality of life.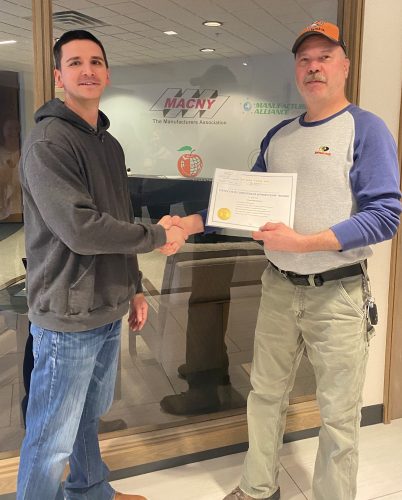 Wierzbicki said, "The decision to get into the apprenticeship program at the mill was a great opportunity to learn new skills that I don't believe I otherwise would have. It has helped me expand my knowledge, as well as be able to further provide for my family. Overall, it was a very positive experience that I would encourage anyone who is interested to get into."
MIAP offers apprenticeship programs in various trades to include, but are not limited to, Welder, CNC Machinist, Toolmaker, Electronics Technician, Electro-Mechanical Technician, and Industrial Manufacturing Technician. Since the program launched in 2016, MIAP has expanded its industries and trades to include high-tech manufacturing, the semi-conductor industry, and IT. It also has increased outreach to underserved and underrepresented populations in the state.
For more information about MIAP, please visit www.macny.org.
Pictured above: Patrick Rogers and his family and Chad Wierzbicki with his mentor.