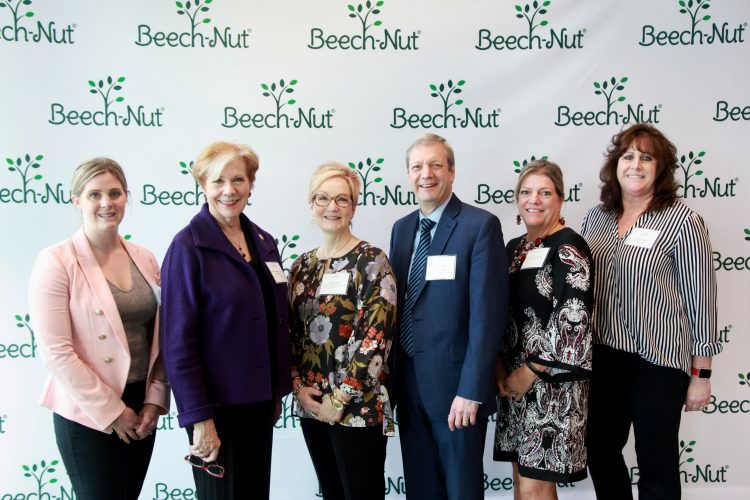 The Manufacturers Association of Central New York (MACNY) was excited to participate in this week's launch of a new registered apprenticeship program at Beech-Nut Nutrition. The program combines supervised on-the-job training at Beech-Nut's Amsterdam facility and related classroom instruction delivered through the State University of New York.
Chris Darling, the Director of Engineering at Beech-Nut Nutrition said, "The development of Beech-Nut Nutrition's apprenticeship program has been a collaborative effort between government, education, and industry partners. We would like to thank the New York State Department of Labor, State University of New York Chancellor's Office, Mohawk Valley Community College, Fulton Montgomery Community College, the Manufacturers Association of Central New York, the Center of Economic Growth, and the Workforce Development Institute."
MACNY, in collaboration with the vital community partners, will serve as the group sponsor of the electro-mechanical apprenticeship program, which will facilitate the transfer of knowledge from mentor to apprentice. During the event, a dozen eager Beech-Nut apprentices signed a commemorative poster board to kick off the start of the program.
MACNY President & CEO Randy Wolken said, "The launch of Beech-Nut's apprenticeship program is an exciting opportunity for everyone involved. We know there is a growing need for apprenticeship programs statewide as more companies look for effective ways to increase their skilled workforce and fill current job openings. Beech-Nut has taken the first exciting step in this process, and we wish all the Beech-Nut apprentices have success in their training."
About the Beech-Nut Nutrition Company:
Producing baby food since 1931, the Beech-Nut Nutrition Company has been built on a history of innovation and dedicated to producing healthy, wholesome infant nutrition. Headquartered in Amsterdam, New York, Beech-Nut is a leading baby food brand in the United States and is committed to offering parents Real Ingredients, Simply Prepared for their babies.