Manufacturing And The Looming Recession (Part 2 of 2)
Randy Wolken, President & CEO
If you assume we are going to experience a recession, then being able to navigate through it well is crucial. This is where a bit of history can help us. Manufacturers should prepare for a meaningful post-recovery period. Historically, moderate recessions have lasted between 9 and 15 months, while more severe recessions have lasted substantially longer. The Great Recession lasted almost 6 years. This type of recession was undoubtedly unique and does not appear to be likely.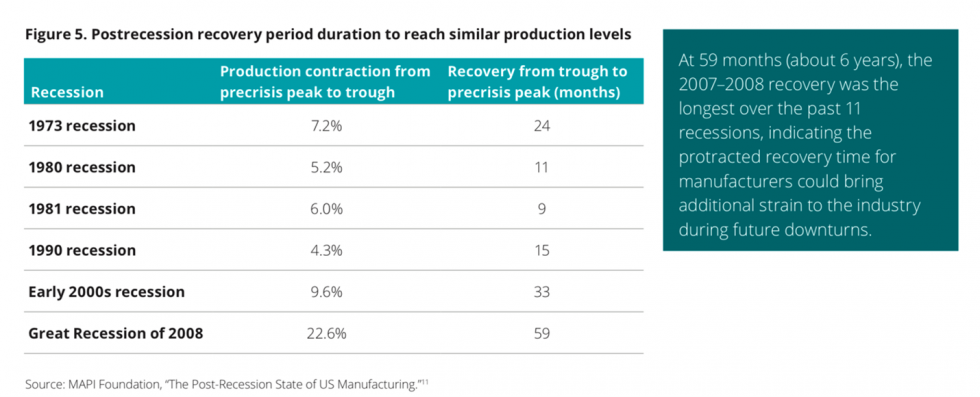 In the past, manufacturers have used two crucial strategies to survive and thrive during recessions. These strategies include maintaining adequate levels of liquidity and making strategic investments. When done well, these two efforts position a company well.
When Deloitte reviewed past recessions and manufacturing, liquidity quickly emerged as the most vital metric in maintaining a recession-resilient manufacturer. Manufacturers with easier access to capital and relatively lower debts could better navigate through a recession. Also, these same companies achieved higher revenue growth during the following recovery periods. One vital strategy to help manufacturers maximize liquidity is to increase insights into cash flows throughout the organization's leaders. Helping team members understand that maintaining adequate liquidity is key to sustaining operations and investing in recovery is vital.
A company's second most crucial effort is investing in assets and process-related innovations that increase efficiency and productivity. When a company does this, it improves its capabilities to compete better. It can add tools and Industry 4.0 technologies such as robotics, advanced automation, and AI-enhanced approaches. It can also invest in overall process improvements and critical staff. Digital strategies may also help make the organization more resilient and responsive to customers. When we enter a recession, having a game plan that optimizes smart investments remains one of the best ways to position yourself for a rapid recovery and maximum growth.
MACNY itself has navigated economic downturns with our members since 1913. We have provided vital services, training, networking, information, and advocacy through these recessions. More recently, we have vastly improved our ability to help members secure and train essential skilled labor. If you would like our help, please visit www.macny.org to learn more or contact any of our team members who can explain how we can help.  Together we will continue to grow manufacturing in Upstate New York and through New York State.
Source: https://www2.deloitte.com/content/dam/Deloitte/us/Documents/energy-resources/us-economic-shifts-industrials.pdf