Click here to read the May 2019 issue of Manufacturing Matters, the monthly newsletter of MACNY!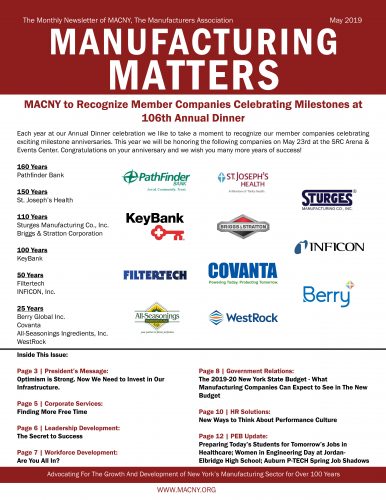 This month's articles include:
On the Cover:
MACNY to Recognize Member Companies Celebrating Milestones at 106th Annual Dinner
Page 3 | President's Message:
Optimism is Strong. Now We Need to Invest in Our Infrastructure.
Page 5 | Corporate Services:
Finding More Free Time
Page 6 | Leadership Development:
The Secret to Success
Page 7 | Workforce Development:
Are You All In?
Page 8 | Government Relations:
The 2019-20 New York State Budget – What Manufacturing Companies Can Expect to See in The New Budget
Page 10 | HR Solutions:
New Ways to Think About Performance Culture
Page 12 | PEB Update:
Preparing Today's Students for Tomorrow's Jobs in Healthcare
Women in Engineering Day at Jordan-Elbridge High School
Auburn P-TECH Spring Job Shadows