Please enjoy the Summer 2017 Edition of Manufacturing Matters, the monthly newsletter of MACNY, The Manufacturers Association!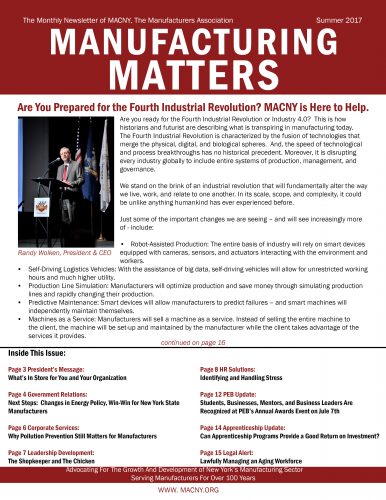 Cover Story
Are You Prepared for the Fourth Industrial Revolution? MACNY is Here to Help.
Page 3 | President's Message
What's In Store for You and Your Organization
Page 4 | Government Relations
Next Steps: Changes in Energy Policy, Win-Win for New York State Manufacturers

Page 6 | Corporate Services
Why Pollution Prevention Still Matters for Manufacturers
Page 7 | Leadership Development
The Shopkeeper and The Chicken
Page 8 | HR Solutions
Identifying and Handling Stress
Page 12 | PEB Update
Students, Businesses, Mentors, and Business Leaders Are Recognized at PEB's Annual Awards Event
Page 14 | Apprenticeship Update
Can Apprenticeship Programs Provide a Good Return on Investment?

Page 16 | Legal Alert
Lawfully Managing an Aging Workforce