Click here to read the Summer 2019 issue of Manufacturing Matters, the monthly newsletter of MACNY!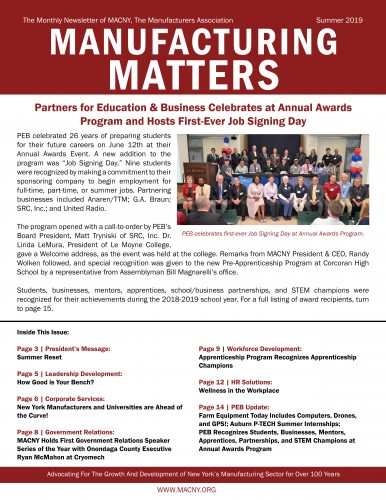 This month's articles include:
On the Cover:
Partners for Education & Business Celebrates at Annual Awards Program and Hosts First-Ever Job Signing Day
Page 3 | President's Message:
Summer Reset
Page 5 | Leadership Development:
How Good is Your Bench?
Page 6 | Corporate Services:
New York Manufacturers and Universities are Ahead of the Curve!
Page 8 | Government Relations:
MACNY Holds First Government Relations Speaker Series of the Year with Onondaga County Executive Ryan McMahon at Cryomech
Page 9 | Workforce Development:
Apprenticeship Program Recognizes Apprenticeship Champions
Page 12 | HR Solutions:
Wellness in the Workplace
Page 14 | PEB Update:
Farm Equipment Today Includes Computers, Drones, and GPS!; Auburn P-TECH Summer Internships; PEB Recognizes Students, Businesses, Mentors, Apprentices, Partnerships, and STEM Champions at Annual Awards Program