On December 12th, 9th Grade RPAS and CIS students from PSLA at Fowler visited the Tech Garden in Syracuse. They were greeted by Kara Jones, Content & Marketing Manager whose presentation gave the students background information about the Tech Garden and the Genius New York Program. She asked the students if they knew what an incubator was and if they knew what an entrepreneur was. She explain
ed the Genius New York $1M competition. The students were totally engaged and everyone was amazed by their questions: "Where did the money come from?" and "Did the companies have to pay it back?"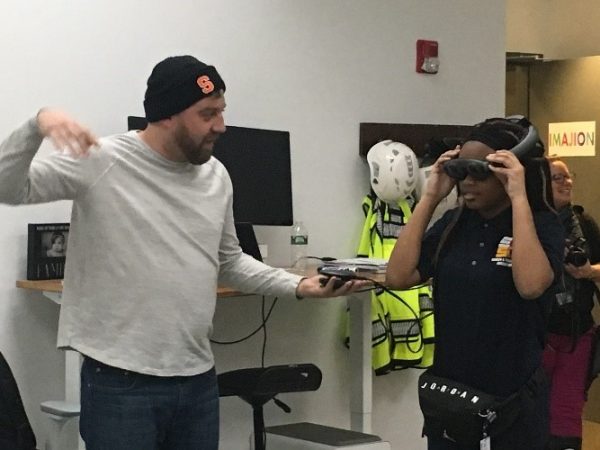 After the presentation, the group left the amphitheater and was given a tour of the Tech Garden spaces. First stop was IMAJION, a software development company, where they were greeted by the Co-Founder and CEO, Charles Preuss. He greeted them with augmented reality which they were able to experience first-hand through Microsoft's Hololens. He talked about the future of Artificial Intelligence (AI) and the importance of computer information systems. IMAJION is revolutionizing communications by harnessing the power of mixed reality to drive efficiency, savings, and real business results. Their initial emphasis is in the Construction industry.
Next was a trip back to the Amphitheater where the students were addressed with presentations from the Genius New York Team (GENIUS New York stands for Growing ENtrepeneurs In UpState New York). Time was spent discussing the numerous use of drones and each company's mission.
Next was a presentation from Zachary Halberd, Co-founder Aerospace & Technology at Quantifly. He explained that they use drones, cameras, and AI to plan cities and showed a video of how that is done and why it is so much easier to do from an aerial view. Again a student asked how they had developed the drone for that purpose. Next was Greg Walker from Necessity Systems who talked to the students about their development of specialized cameras, LIMIT, Live Image Maps In Time. Greg also has already volunteered as a Career Coach in the 9th grade P-TECH RPAS class.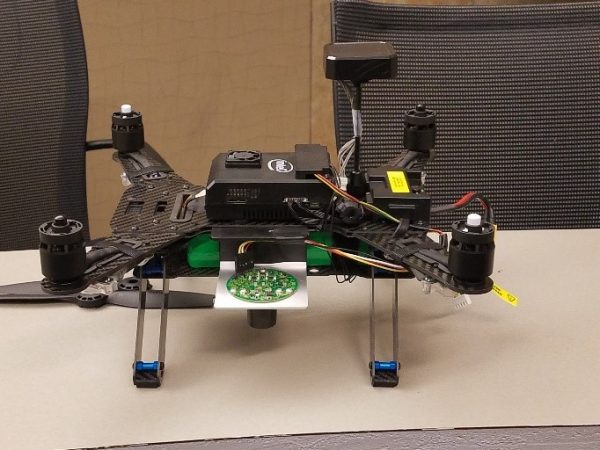 Next was a video from Adam Fine, CTO of Dropcopter, a company involved in aerial pollination for agriculture. The video showed the importance of pollination via the use of drones for maximum crop production and the importance of augmenting the decline in the bee populations. Dropcopter accomplished the first-ever pollination of apples in the world at Beak & Skiff's local orchard. Adam mentioned that they are always looking for drone pilots with their Part 107 license, great information for the students to keep in mind as the continue on their path to a career. Adam also shared the fact that he didn't even know how to fly a drone when he got involved with the business. It was about meeting a need; finding a solution with new technology.
Truweather Solutions started their presentation by asking students to think about how they are blown by strong winds and were encouraged to think about the effect of strong winds on drones.
There was also a presentation from Yunpeng Li, from USPLM (Unmanned Systems & Products Lifestyle Management). He passed their quadcopter around for the students to see. Yunpeng is also a Career Coach for the 9th grade RPAS students.
After the presentations came many questions. One question was, "How do you know when you are successful?" Chris McCall, from Fotokite was quick to respond that success is not always measured in dollars and that he would be measuring success after they recorded their first life saved due to their work in their products.
After all the presentations from the Genius New York teams, Kara organized a Speed Networking Session. This was an awesome experience for these 9th graders to shake hands and meet these entrepreneurs and get to know them! For many of them, this was a new experience. They seemed to appreciate the new opportunity to learn the art of the "meet & greet." At the end of the event, each student received a hat or t-shirt and their very own drone!