Syracuse P-TECH Students Visit Universal Metal Works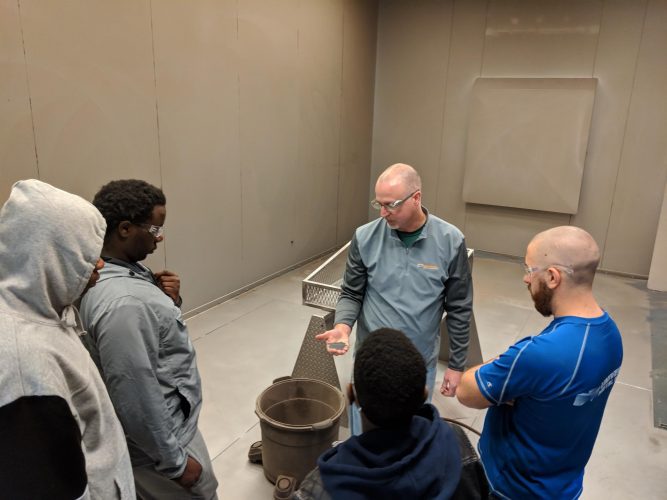 The Syracuse P-TECH program went to Universal Metal Works in Fulton for an industry visit on April 4th.   This is the first time the 9th grade P-TECH students have seen a custom metal fabrication facility up close.  Universal Metal Works gave the students a lot to think about in terms of the different services and custom-made products they offer their clients. The work varies with a variety of jobs including making stainless-steel signs for storefronts to more complicated structures such as dryers used on paper converting lines.  Students were shown a waterjet cutting machine, laser cutter, rollers, a 125-ton press brake, sandblasting room, paint room, custom welding, and all the types of material they use for different projects.  Students especially enjoyed seeing the laser cutter and the waterjet cutter machine in action cutting thick pieces of metal.
P-TECH students were shown some of the customized work Universal Metal Works does for their clients and the skills needed to make the product to their customers' exact specifications.  Customers can even walk into Universal Metal Works' front counter with an idea on a piece of paper or a napkin and they can work with an engineer to help design and make a blueprint of the idea. Universal Metal Works shared with the P-TECH students some of their future needs such as entry-level positions, skills needed, and why Universal Metal Works is important to the Fulton community and greater Central New York region. Thank you, Universal Metal Works for a great industry visit!