Time To Take Action On Your Supply Chain
Randy Wolken, President & CEO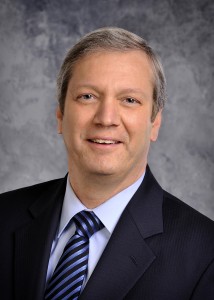 Most of MACNY's members are being hurt by their supply chain challenges. Unfortunately, I don't expect those challenges to go away. Earlier this month, I briefly outlined that the supply chain problems were complex and not getting fixed soon – if ever. This means you need to be mapping a strategy to your future. So, what have other companies done, and what are they doing now to work through this problem?
McKinsey recently shared  what they have found from their survey of companies. First, they asked companies what they were planning to do in May 2020. They then went back and asked what they actually did – and what they plan on doing now. The actions are broken down into two approaches – inventory and nearshoring. The most common answer to what they have done was to build inventories. It is certainly quicker to build inventory than to secure a new supply chain or build new factories. However, companies still know they must do the more complex actions, such as nearshoring, for the long term. Below is the graphic that helps explain the results of the study.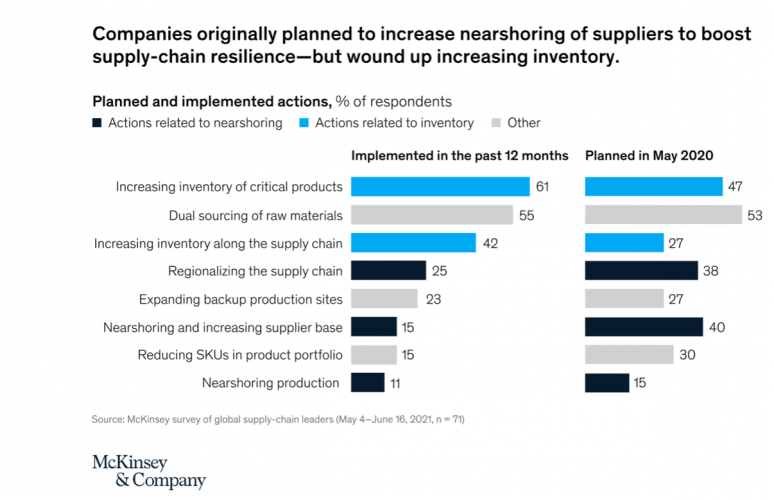 Key emerging strategies are dual sourcing, regionalizing supply, and expanding backup production sites. It also varies by industry on how the supply chain is being changed. Healthcare has used the broadest range of measures, with 60 percent of healthcare respondents saying they had regionalized their supply chains and 33 percent have moved production closer to end markets. By contrast, only 22 percent of automotive, aerospace, and defense players had regionalized production, even though more than three-quarters of them prioritized this approach in their answers to the 2020 survey. Chemicals and commodity players made the smallest overall changes to their supply-chain footprints during the past year.
What is clear is that every industry impacted is responding and not waiting for the supply chain to return to normal. Many, as am I, are convinced we need to create the new, next-to-normal supply chain to secure a competitive advantage. There is no going back to the way things were. But, as with every challenge comes a unique opportunity. Growing production in New York and the US is increasingly the best answer. At MACNY, we are doing our best to get the word out to the public and our political leaders. Also, we are seeking to find ways to make our state and country more competitive. All of these steps help increase members' growth and profitability. Please let us know how we can help!