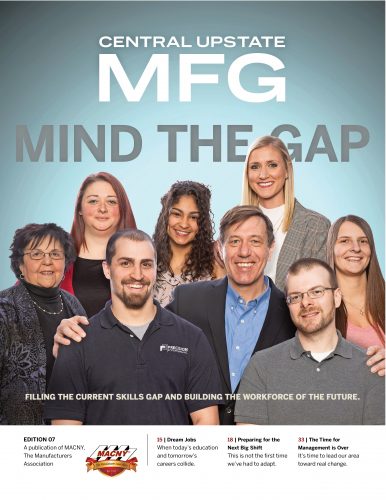 MACNY is very excited to bring you the seventh edition of Central Upstate Mfg. magazine! In this issue we explore the interesting and inspiring topic of workforce development. In order to create the state-of-the-art products and services that companies in Central and Upstate New York are known for, these businesses must have knowledgeable and skilled workforces. A strong workforce is a critical need of every company; the best talent is required to stay competitive in a global market.
Preparing for the future requires more than a company simply providing additional job training to its employees. Read on to see how critical thinking, communication, real world experience, and other 21st century skills are being emphasized to create agile employees who can easily adapt to coming changes. You will also learn about MACNY and PEB's outstanding P-TECH programs and partners such as East Syracuse Minoa Central School District. Hear from participants taking advantage of our state-of-the art Apprenticeship Program, which is influencing the way New York State and our nation create a highly skilled workforce that meets the needs of employers today and tomorrow. You'll also learn about member companies such as SRC, Inc., Manth Brownell, and Precision Systems that are making our region stronger by creating great jobs and developing the skills of our workforce.
We hope you enjoy this issue as much as we have enjoyed producing it!
Click 
here
 to view, download, or print a PDF version.