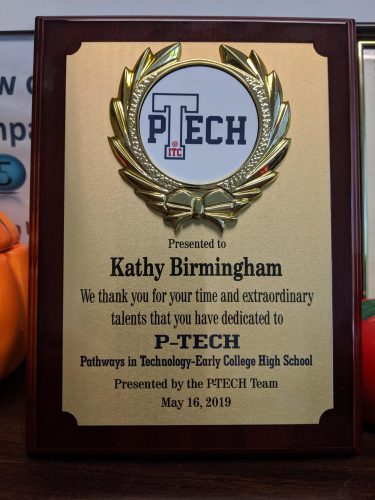 On May 16th at the MACNY offices, the Syracuse P-TECH program celebrated their career coaches for volunteering their time and efforts this year. A special award was given to Kathy Birmingham of Partners for Education & Business to thank her for her commitment to the Syracuse P-TECH program. Kathy plays an integral role in the P-TECH program by scheduling industry visits, job shadows, internships, and inviting career coaches to mentor day events at the Institute of Technology at Syracuse Central. She has been involved in coordinating these activities on behalf of the P-TECH program since the program began.
Nick Lisi, the Business and Higher Education Liaison for Career and Technical Education with the Syracuse City School District said, "The P-TECH team wanted to formally recognize and thank Kathy for her tireless work and dedication in supporting our students since the beginning of the P-TECH program five years ago. Kathy never says no or asks why… always a true partner in figuring out how to develop the best career and job-related opportunities for our P-TECH students at ITC. And she takes great photos!"
Partners for Education & Business would also like to thank Kathy for her dedication to the P-TECH program and for all she does to help Syracuse students reach their career goals.