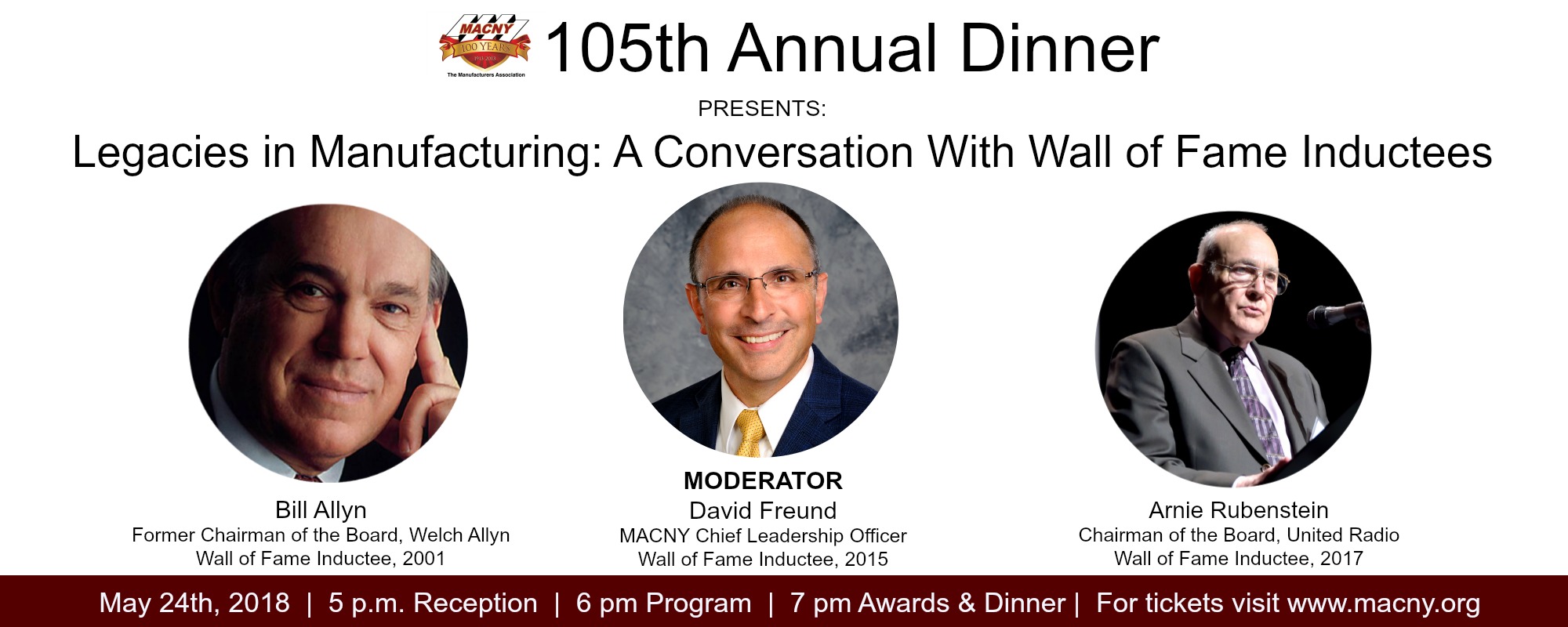 MACNY, The Manufacturers Association, announces Bill Allyn, former Chairman of the Board of Welch Allyn and Arnie Rubenstein, Chairman of the Board of United Radio will be joining moderator David Freund for an in-depth conversation titled Legacies in Manufacturing:  A Conversation With Wall of Fame Inductees at MACNY's 105th Annual Dinner on Thursday, May 24th at the SRC Arena and Events Center.
During the discussion, the renowned manufacturing executives and former Wall of Fame Inductees will speak off-the-cuff in a question and answer format on their lifetime achievements and experiences in their family-owned manufacturing businesses, Welch Allyn and United Radio.
Bill Allyn is the former Chairman of the Board of Welch Allyn, a family company started in Auburn, New York in 1915—later relocated to Skaneateles, New York.  Mr. Allyn was inducted into the MACNY Wall of Fame in 2001 as part of the first class of Inductees.
Arnie Rubenstein is the Chairman of the Board of United Radio, a high-tech electronics remanufacturer and distributor started in Syracuse, New York by Arnie's Father in 1923. Arnie served as President and CEO of the family company for 29 years, eventually passing the leadership role to his son and daughter, taking on the Chairman role of the 95-year-old company. Today, United Radio is based in East Syracuse, New York. Mr. Rubenstein was inducted into MACNY's Wall of Fame in 2017.
Moderator David Freund, a Manufacturers Wall of Fame Inductee from the Class of 2015, will conduct the dialogue in the conversational style that he is known for in his MACNY sponsored podcast series, The Next Page.  Guests will be able to experience an in-depth conversation between the three, as they dive into memories, lessons learned, and both entertaining and challenging tales from these two legacies in manufacturing excellence.
MACNY's Annual Dinner and Awards Ceremony will be held at the SRC Arena and Events Center on May 24th, 2018.  For tickets or additional information, please contact Cindy Nave at 315-474-4201 ext. 11 or [email protected]