Please enjoy the June 2017 Edition of Manufacturing Matters, the monthly newsletter of MACNY, The Manufacturers Association!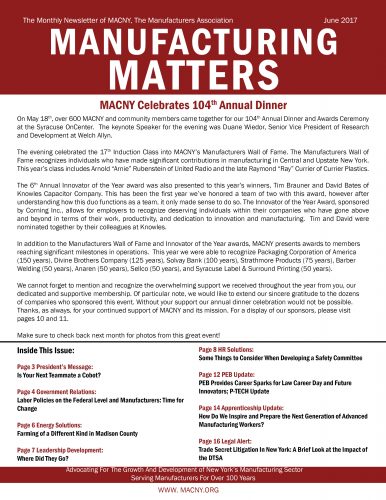 Cover Story
MACNY Celebrates 104th Annual Dinner
Page 3 | President's Message
Is Your Next Teammate a Cobot?
Page 4 | Government Relations
Labor Policies on the Federal Level and Manufacturers: Time for Change

Page 6 | Energy Solutions
Farming of a Different Kind in Madison County
Page 7 | Leadership Development
Where Did They Go?
Page 8 | HR Solutions
Some Things to Consider When Developing a Safety Committee
Page 12 | PEB Update
PEB Provides Career Sparks for Law Career Day and Future Innovators
P-TECH Update
Page 14 | Apprenticeship Update
How Do We Inspire and Prepare the Next Generation of Advanced Manufacturing Workers?

Page 16 | Legal Alert
Trade Secret Litigation In New York: A Brief Look at the Impact of the DTSA