Click here to read the June 2019 issue of Manufacturing Matters, the monthly newsletter of MACNY!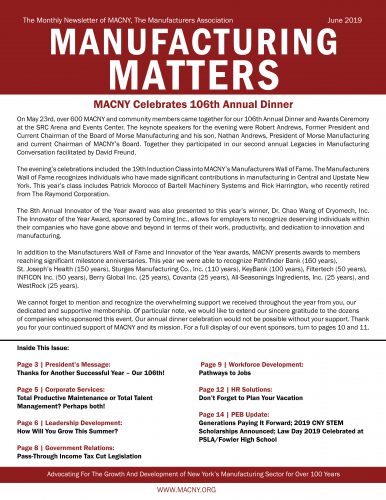 This month's articles include:
On the Cover:
MACNY Celebrates 106th Annual Dinner
Page 3 | President's Message:
Thanks for Another Successful Year – Our 106th!
Page 5 | Corporate Services:
Total Productive Maintenance or Total Talent Management? Perhaps both!
Page 6 | Leadership Development:
How Will You Grow This Summer?
Page 8 | Government Relations:
Pass-Through Income Tax Cut Legislation
Page 9 | Workforce Development:
Pathways to Jobs
Page 12 | HR Solutions:
Don't Forget to Plan Your Vacation
Page 14 | PEB Update:
Generations Paying It Forward
2019 CNY STEM Scholarships Announced
Law Day 2019 Celebrated at PSLA/Fowler High School