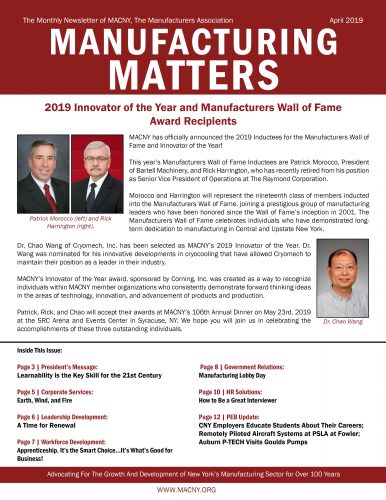 Click here to read the April 2019 issue of Manufacturing Matters, the monthly newsletter of MACNY!
This month's articles include:
Page 3 | President's Message:
Learnability is the Key Skill for the 21st Century
Page 5 | Corporate Services:
Earth, Wind, and Fire
Page 6 | Leadership Development:
A Time for Renewal
Page 7 | Workforce Development:
Apprenticeship. It's the Smart Choice…It's What's Good for Business!
Page 8 | Government Relations:
Manufacturing Lobby Day
Page 10 | HR Solutions:
How to Be a Great Interviewer
Page 12 | PEB Update:
CNY Employers Educate Students About Their Careers
Remotely Piloted Aircraft Systems at PSLA at Fowler
Auburn P-TECH Visits Goulds Pumps