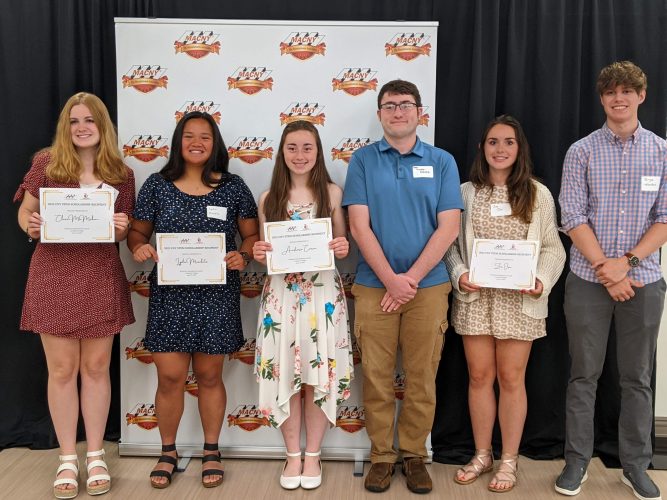 Partners for Education & Business, Inc. (PEB) is proud to announce the 2022 class of CNY STEM Scholarship recipients. This year, a record 18 scholarships worth $148,000 in total were awarded to local high school students heading off to pursue careers in STEM. A special awards ceremony was held on June 15th at Le Moyne College, emceed by Spectrum News talent Lacey Leonardi.
The CNY STEM Scholarship Program, which started in 2013, is endorsed by the CNY STEM Hub and supported by Partners for Education & Business, Inc. – an affiliate of the Manufacturers Association of Central New York (MACNY). The program supports high school seniors who plan to pursue a college education in a field related to Science, Technology, Engineering, and Math, known as STEM. Including this year, local employers have awarded scholarships to more than 80 Central New York high school students totaling $825,000.
Dr. Donna DeSiato, CNY STEM Hub Chair and Superintendent of the East Syracuse Minoa Central School District STEM Learning Ecosystem, said, "The Central New York region applauds the business partnerships sponsoring scholarships and internships in support of STEM careers! These resources provide students with rigorous, relevant, and engaging experiences as an essential component for success in their college and career pathway."
SRC, Inc. is a founding member of the program and has offered scholarships since the program's launch. "For 10 years, the CNY STEM Scholarship program has been positively impacting the future of our local workforce," said Kevin Hair, president and CEO of SRC. "We're proud to be a longtime supporter of this program and to offer three scholarships to exceptional students again this year. We look forward to having them as part of the SRC team!"
The 2022 CNY STEM Scholarship awardees and the school districts from which they are graduating are listed below, along with the awarding companies.
SRC, INC. – James McKenney (Baldwinsville), Lydia Mirabito (Fulton), Rylie Platt (Jordan- Elbridge). Each student will receive $5,000 per year for four years.
The following scholarship awardees will receive $2,000 per year for four years:
NOVELIS – Kendall Cuyler (Mexico), Grady Ordway (Baldwinsville), and Ryan Wendt (Christian Brothers Academy).
KING+KING – Addison Moore (Moravia) and Zoe Orr (West Genesee)
TTM TECHNOLOGIES – Brycen Murdock (Baldwinsville) and Anastasia Cosco (East Syracuse-Minoa)
The following students will receive $1,000 per year for four years:

INFICON – Clare McMahon (Westhill) and Lillian Yengo (Skaneateles)
MARQUARDT SWITCHES – Jack Mohat (Tully) and Zachary Schaubroeck (Bishop Grimes)
COOPER LIGHTING SOLUTIONS – Joshua Boulter (Chittenango) and Jacob Mone (Jamesville-DeWitt)
LORETTO – Emily Garritillo (Solvay)
CAZENOVIA EQUIPMENT – Jacob Edwards (Mexico)
"Having been involved in the program since its beginning, I have watched it grow from three scholarships, being offered by one company, to now 18 scholarships being offered by 9 different companies" said Marianne Ferris, CNY STEM Scholarship Director. "There is a lot of great young talent in Central New York, and this program gives students the opportunity to see what exciting and rewarding careers exist right here at home. We stay connected with all scholarship recipients while they are in college and connect them with local summer and/or permanent job opportunities."
In addition to the 2022 CNY STEM Scholarship recipients, the June 15th ceremony celebrated students from the local P-TECH (Pathways in Technology, Early College High School) programs and the CNY STEM Scholarship Program recipients who have accepted full-time employment.
Also celebrated at the ceremony were the Partnership of the Year Award recipients (Chimera Integrations, SUNY Upstate Medical University, EMCom Inc., and Ephesus) and SRC CNY STEM Champion of the Year Award recipient (Doug Hill, Maker Institute at Le Moyne College).
Additionally, 15 Registered Apprentices, who became Journeyworkers in 2021 from 10 manufacturing companies, were recognized along with 11 new signatory companies and 9 signatory companies that have expanded their Registered Apprenticeship programs. MACNY partners with the New York State Department of Labor to sponsor the Manufacturers Intermediary Apprenticeship Program, known as MIAP. Through this program, an apprentice learns directly from his/her employer with on-the-job training to earn the credentials needed to progress in the industry. When apprentices complete the program, they earn a Journeyworker National Certificate.