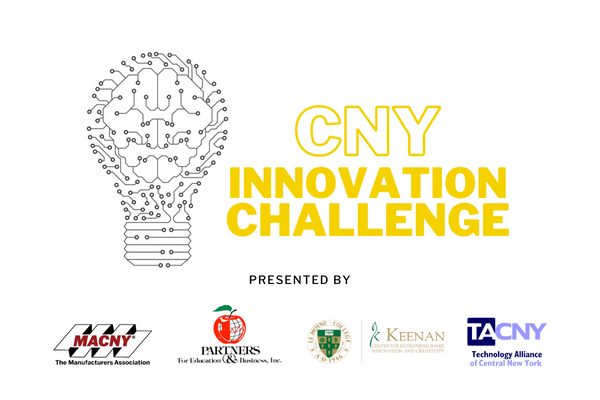 Central New York students in grades 6-12 are invited to put on their thinking caps as the Maker Faire Syracuse; Le Moyne College's Keenan Center for Entrepreneurship, Innovation and Creativity; the Technology Alliance of Central New York (TACNY), and Partners for Education & Business, Inc. (PEB), an affiliate of MACNY, kick off the 7th annual CNY Innovation Challenge.
The CNY Innovation Challenge is open to students who reside in Cayuga, Cortland, Madison, Oneida, Onondaga, Oswego, and Tompkins counties. The challenge is to invent a product or develop a service that solves an everyday problem or makes life easier. From concept to completion, students work in teams with an adult mentor or coach to invent, design, and present their ideas to a panel of judges at the Maker Faire Syracuse on April 1. The Keenan Center is providing support for students in concept development and pitch practicing.
The prize money from TACNY is awarded to the top teams in each of the two challenge age groups (grades 6-8 and grades 9-12). For the high school division, $750 will be awarded to the first place team, and $500 for second place. Each member of the top winning high school team will also be awarded a $5,000 scholarship to attend Le Moyne College. In the middle school division, winners will receive $500 for first place, and $250 for second place. Top teams will be invited to compete in Le Moyne College's pitch competition for students on April 18, called Dolphin Tank
PEB Workforce Development Specialist, Amy Stewart said, "We are excited for students to participate in this year's CNY Innovation Challenge! It is a great opportunity for students to use the necessary workplace skills of problem-solving, creativity, and collaboration. Le Moyne College's Keenan Center, TACNY, and the Maker Faire Syracuse have been critical partners in making this a fun and beneficial experience for students."
The Maker Faire Syracuse is a gathering of fascinating, curious people who enjoy learning and who love sharing what they can do.  From engineers to artists to scientists to crafters, Maker Faire is a venue for these "makers" to show hobbies, experiments, and projects. Learn more about the Maker Faire Syracuse at https://syracuse.makerfaire.com/.
Innovation Challenge registration is open now through March 3, 2023. This year's pitch competition will be held at the Maker Faire Syracuse at Le Moyne College on Saturday, April 1, 2023. Visit https://www.macny.org/peb-2023-cny-innovation-challenge/ for further details and to register.